Shaw's Motel, Hamp's Last Gleaming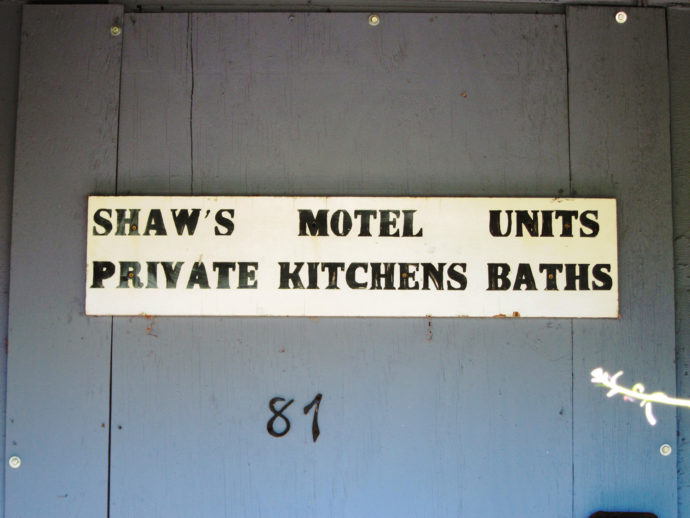 Shaw's Motel at 87 Bridge St. in downtown Northampton was once a refuge to the homeless mentally ill, abandoned to the streets from their incarceration at Northampton State Hospital. Today mold and graffiti silently gesture to its nearly forgotten past in the silent dialect of decay.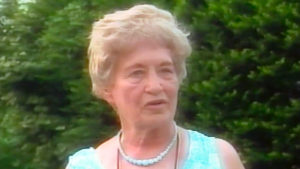 Donald and Josephine (who preferred JoAnn) Shaw,  purchased the lot in 1949 and opened the motel in 1951 as the Blue Tourist Door, changing the name to Shaw's shortly thereafter. The Shaw's first de-hospitalized guests were from the VA in Leeds, a few miles north of Northampton on Rt. 9, seeking to house a few discharged clients.
One and a half miles up the street, Northampton State Hospital, crumbling beneath the weight of poor policy and worse funding for a century, finally began to fall. Conditions within the overcrowded institution had been documented as being terrible as early as the turn of the century. Through annual reports the state hospital's own trustees begged the state for more funding even to properly house patients, nevermind treat them with what little psychiatry could offer at the time. The hospital was expanded continuously but there was never enough space or staff to do more than warehouse the mentally ill.
Patients were released to the streets from the late 60s and continuing to the close of Northampton State Hospital. Some had been hospitalized for decades and possessed little or no life skills. The tide of newly homeless patients drew the attention of Life magazine, which ran Emptying the Madhouse in May 1981.
JoAnn Shaw rose to the occasion by becoming a kind mother to the de-hospitalized homeless who often didn't have or were not in contact with their families. Shaw would make sure medication was taken, calling police when it wasn't. The police were called to Shaw's more than a dozen times every year from 1986 through 1998. Shaw was featured in Frontline's 1994 expose A Place for Madness on the closing of Northampton State Hospital.
Frontline, A Place for Madness, January 18, 1994. See part 2 on the gallery page.
Northampton was not always sympathetic to the Shaw's work nor the struggles of their residents. Repairs to damaged rooms, stolen motel property and unpaid rent added to the financial burden of running Shaw's. JoAnne Shaw recounted the difficulty of paying taxes in a 1994 interview with the LA Times. "It's like that guy in City Hall told me: `Mrs. Shaw, if you want to run the business with your heart, that's your business. But we want our money.'" – LA Times.
Have a Gay Time
Shaw's was home to some of downtown Northampton's more fabulous personalities. Edward Gay or The Dress Man, as he was known around town, passed quietly on April 30, 1994 in his single room after 13 years at Shaw's Motel. An Amherst native, Eddie had moved to New York City in the 50s to write jokes, opening Eddie Gay's Gag Service at 242 West 72nd St.
"One subscriber to Gay's Gags wrote Eddie on Nov. 18, 1965, asking for a one-year subscription. "And please rush it. I am expected to be a very funny man about two weeks from now." It was signed John Asher." DHG Dress Man
During his years at Shaw's Mr. Gay had never discussed with anyone, even to JoAnn Shaw, his illustrious career. It was only because the executor of Gay's estate used to work with Edward's mother Edna, who bragged about her son's career in NYC was any of his former life brought to light. In remembrance of Eddie, Pete Nelson a local author and songwriter wrote Ballad of Eddie Gay.
1790
Even before Shaw's Motel, 87-89 Bridge Street had been an important part of Northampton's history for hundreds of years. The original house was built by Shubael Wilder in 1790, who served as a drummer in the Revolutionary war. By the outbreak of Shay's Rebellion in 1786 Shubael had earned the rank of captain and marched on the Springfield armory. By the 1800 census Shubael Wilder lived in a household of 9 people: 3 males, 6 females, mostly young.
Shubael's wife, Sarah Wright was a direct descendant of Samuel Wright, Deacon and one of Northampton's settlers since around 1655. Here are images the building in 1890, which looked very different before modern additions.
This image is from the 1930s when in address was owned by Persis Crafts, the curator of the Northampton Historical Society from the 1930s to 60s and great-great-great granddaughter to Shubael Wilder.
1999
Police calls to Shaw's Motel and the associated newspaper bylines fell sharply in 1999. Instead of dozens of police incidents there was but four and a handful of bylines. The motel continued to operate quietly until abandoned in 2010, when it passed from JoAnn Shaw to her son Donald.
On April 21, 2013 a fire was set by a still unknown vandal. Donald Shaw had tried unsuccessfully for three years to sell the property, but in 2015 found a buyer in Matthew Campagnari. Today condos are planned for the site, pending a one year demolition delay placed on the site by Northampton Historical Commission to ensure the new development conforms with the aesthetics of the neighborhood.
Shaw's Motel was the first waypoint in the exile of the mentally ill from abandonment within the state hospital system to abandonment on the streets. Like the people JoAnn Shaw saved, the motel's wooden walls sour and mold abandoned for all the city to see, and forget, again. The Motel was demolished in December 2016.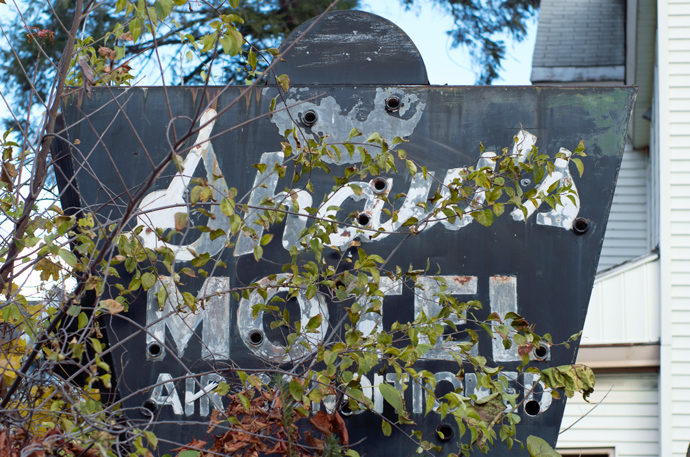 Credits
Bartlett Nelson, Julie. Forbes Library: Shaw's Articles.
Bernier-Feeley, Elise. Forbes Library: Historian.
Budgar, Jerry: Historian, contacts, project management oversight, and generous coffee time.
Gaffney, Dylan. Forbes Library: Historian, Dress Man connection and portrait negatives.
McElroy, Ethan. Kirkbride Buildings: Editing and spiritual advice.
Panik, Marie. Historic Northampton: Historian.
References
"A Place for Madness." Frontline, January 18, 1994.
Boodman, Sandra. "Closing a State Mental Hospital." Washington Post, January 18, 1994. https://www.washingtonpost.com/archive/lifestyle/wellness/1994/01/18/closing-a-state-mental-hospital/ef7e84c8-ecfb-4fde-9ca9-adade37d739c/.
Donn, Jeff. "Motel a Surprise Haven for Mentally Ill Samaritan: At Her Transformed Rooming House, Owner Has Sheltered, Fed and Otherwise Tried to Help Hundreds of Lost Souls for More than 30 Years." LA Times. May 22, 1994, Bulldog edition.
"Dress Man' Had a Secret Past of Laughter." Daily Hampshire Gazette. June 4, 1994.
Everett, Rebecca. "Shaw's Motel Property in Northampton Bought for $750,000." Daily Hampshire Gazatte. July 20, 2015. http://www.gazettenet.com/home/17844150-95/shaws-motel-property-in-northampton-bought-for-750000.
Friend, David. "Emptying the Madhouse." LIFE Magazine, May 1981.
Glaun, Dan. "Northampton: Condos to Be Built on Shaw's Motel Property; Demolition of 1800s Home next Door Temporarily Halted." The Republican. February 11, 2016. http://www.masslive.com/news/index.ssf/2016/02/northampton_historic_commissio_3.html.
———. "Still Unsolved: 2013 Fire at Northampton's Shaw's Motel, Long-Vacant Sanctuary for Mentally Ill." The Republican. September 16, 2015. http://www.masslive.com/news/index.ssf/2015/09/still_unsolved_2013_fire_at_no.html.
Goodman, Walter. "Empty Asylums: Rights in Conflict." New York Times. January 18, 1994. http://www.nytimes.com/1994/01/18/movies/empty-asylums-rights-in-conflict.html.
"Josephine A. Shaw, Obituary." Daily Hampshire Gazette. n.d. http://www.legacy.com/obituaries/gazettenet/obituary.aspx?n=Josephine-A-Shaw-Post&pid=164914633.
"Northampton Police Department, Calls to Shaw's Motel, 1994 – 1999." Northampton Police Department, April 7, 2016.
Shoul, Paul. "The Trolls Under the Bridge." News blog. Northampton Media, April 6, 2010. http://northamptonmedia.com/blog/04/06/2010/the-trolls-under-the-bridge/.